CoilMate
®

History / Why CoilMate

®

?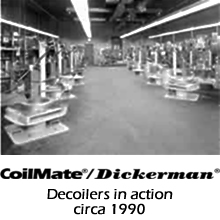 Working out of a small Southington, CT. shop in 1987 Joe Julian introduced America's first family of decoilers to increase productivity and reduce lost man-hours to the coil handling industry. These pallet decoilers offered a quick return on investment and were made to stand the test of time, a tradition of unparalleled excellence that continues today.
In 1998, after 10 years of producing some of the finest Pallet Decoilers in the industry, Joe decided to start another chapter in his life and sold CoilMate® to Mestek Corporation. CoilMate® in turn became a product of CWP® (Cooper-Wemouth, Peterson) and manufacturing was moved to the 80,000 square foot facility in Clinton, Maine.
Aside from a few transitional bumps, the addition of CoilMate® to the CWP® product line was destined for success. Just as the broad range of equipment that CWP® produces has withstood the harshest of conditions, the type of equipment Coilmate® manufactured and the pride that went into it has been a natural fit for the CWP® product line, benefiting from the same high levels of excellence that go into all Formtek Group products.
With the power of CWP® with it's breakthrough engineering and manufacturing prowess, CoilMate® is armed and ready with the resources necessary to provide you with extraordinary outcomes to your stamping and roll forming equipment needs. Please give one of our dedicated, knowledgeable sales engineers a call today to see how your operation can benefit from installing our productivity enhancing CoilMate® family of products in your facility.
The Power of Group
The Formtek Group includes some of the finest names in metal forming and processing equipment, and strives to provide the best and broadest productivity solutions available.
The members of the Formtek group are always working to increase our customers' productivity, profitability, and efficiency, providing our customers with the industry's best consulting, engineering, building, integration, after-market sales and service, and continuous support.